Whether your home is a Dutch colonial style, cottage, or bungalow, simulated wood shake shingles can add a touch of charm to your roof. The use of wood shingles in America dates back to the early 17th century. The first few New England settlers found that the marsh and sea grasses they used for roofing back in England did not last through New England's winters. So they turned to wood, and by 1650, cedar and pine roofs became the standard. While wood shingles are both beautiful and fairly durable, they require more maintenance than other roofing systems and are vulnerable to fire, water damage, mold, and insects. Luckily, you can achieve the same look minus the costly upkeep with simulated wood shake shingles. Below we've compiled a list of excellent options.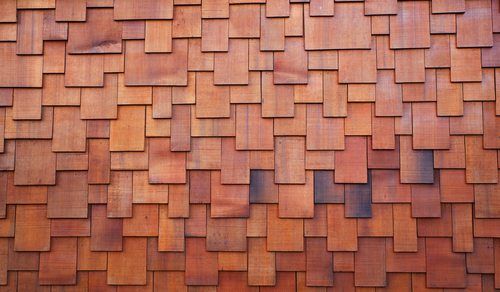 Simulated Wood Shake Shingles
Corning Woodcrest Shingles
Owens Corning Woodcrest® Shingles are thick and have a rustic and textured appearance that mimics the look of a wood shake. These shingles come with a limited lifetime warranty and can withstand winds up to 130 mph. You can even customize your set's color. For a cohesive look, choose the color Timber or Chestnut. To add a feeling of depth and variety, go with Juniper or Autumn Maple.
Steadfast Woodmoor Shingles
Owens Corning Woodmoor Shingles have the same rugged look as Woodcrest Shingles, but they are thicker and heavier in weight. These dependable shingles will add the same rich texture and dimension to your home as wood shingles, but they will be much easier to maintain. In addition, Woodmoor Shingles come in a variety of colors, which can raise your home's curb appeal by giving it a pop of color that can't be achieved with real wood.
Grand Canyon Shingles
Grand Canyon Shingles by GAF Roofing are an affordable choice for achieving a rugged wood shake look. These shingles have an artisan-crafted shape and oversized tabs, which will be sure to cause roof envy. In addition, Grand Canyon Shingles come with a stain guard protection that prevents unsightly blue-green algae from appearing.
Grand Sequoia Shingles
Grand Sequoia Shingles by GAF Roofing also have an extra-large design with oversized tabs. These affordable shingles will help you achieve a long-lasting wood look, and they feature a UV blocker that protects against sun damage. In addition, they come with a durable adhesive seal grip, so these shingles can withstand winds up to 130 mph without coming loose or cracking.
Glenwood Shingles
If you are going for an authentic wood shake look, Glenwood Shingles by GAF Roofing are a great option. Their triple-layer design looks nearly identical to hand-cut wood shakes. One huge difference between these shingles and wood shingles is their high fire rating. Glenwood Shingles earned a Class A fire rating from Underwriters Laboratories.
Installation
No one likes to deal with a leaky roof, so it is important to choose an experienced roofing company to replace your wood shingles with simulated wood shake shingles. Shake roofs are installed over spaced decking, and it is crucial that a professional evenly spaces the new decking. This will prevent buckling caused by exposure to heat, ice, and other forms of precipitation. Keep in mind that some high-end shingles require a unique pattern of installation and the use of a proprietary starter course. If not properly installed, the roof won't match around the eaves.
Are you ready to replace your wood shingle roof? If you live in or near Springfield, Missouri, give GlennStone a call. We've become well known for wood shake conversions, and understand how important a high-quality roof is to the protection and value of your home. We can help you decide which simulated wood shake shingle to purchase by providing sample books, giving you addresses of homes that showcase our work, and even using a software that allows you to superimpose roof styles over a picture of your home. With our help, you can rest easy knowing that you've selected the best roofing product for your needs.
For more information or some personalized advice, please give us a call at 417-860-8125, send an e-mail to info@GlennStone.net, or contact us online. We look forward to hearing from you!