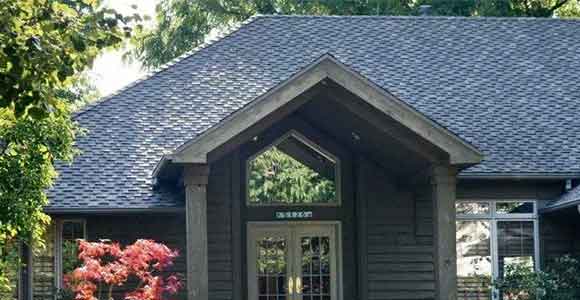 At GlennStone Roofing, we understand the importance of having a quality roof to protect your Springfield home, so we take this responsibility seriously. Wondering what type of roof would look best on your home? Choosing the right color and style of shingles for the roof on your home is easy with our wide selection of sample books and boards. If you have it narrowed down to one or two, we can even cap-nail a few choices on your roof so you can see which one is perfect for your Springfield home!
You can also drive by Springfield homes we've roofed with in the past to see different types and colors of shingles, or you can hop in our truck with us, and we'll take you on a quick tour of some of our work. Our computer software allows you to superimpose different styles of roofs over a picture of your home. The design of a new roof can be overwhelming. Let GlennStone in Springfield, MO help you make sure you've picked the right shingles. After all, they are going to be there for a long time..
Springfield Residential Roof Contractors
Providing The Best Quality & Value
GlennStone is known for providing the highest quality residential roofing services at some of the best value in the Springfield Missouri area. A GlennStone roof is an investment that provides the peace of mind that the job is done right the first time, and you won't be going through the hassle of getting a new roof again anytime soon. These high standards are met by carefully checking our work and addressing any issues before we finish the job on your roof. Attention to every detail also means leaving every job site better than how we found it.
The GlennStone Guarantee
When you get your new roof from GlennStone, you can be confident that the job will be done to ensure customer satisfaction. We offer the best warranty in the business on all residential and commercial roof installations. If any shingles come off, or your roof leaks, due to a flaw in our workmanship during the warranty period, simply call us and we will fix it promptly and for free. Our reputation and your satisfaction are our top priorities.
Sustainable Roofs
Whenever we install a new roof, we try to salvage and recycle as much of the old materials as possible. Instead of your old shingles ending up in a landfill, we prefer to turn old roofs into asphalt for new roads.
Complementary Roofing Consultations
For most residential roofing projects, we will provide free roofing estimates that give you three options to choose from: good, better, and best. You can choose the option that best fits your needs.
Expert Roof Repairs
Not every situation requires a new roof. However, when we perform a residential roof repair, we do it right. We don't just spread roofing tar all over your roof and call it fixed. We take the time to investigate the true cause of your leaks and take the appropriate steps to ensure they don't come back after we leave.
Detailed Roof Inspection Reports
Some customers require more detail than a standard roof inspection when buying, selling, refinancing, or insuring their homes. When you request a quote from GlennStone, we won't just take a quick walk around your roof and tell you it needs to be replaced. You'll find our roof reports are specific and detail-oriented. In fact, our roof reports are similar to home inspection reports and include photos of any concerns we find to give you the confidence that you have all the information you need to make an informed decision about the roof on your Springfield home.