Some problems can be ignored for a little while. Others demand prompt attention. A roof leak definitely falls in the second category. Whether water is dripping, seeping, or pouring into your home or business from a leak in the roof, it can do considerable damage. Uncontrolled water can destroy personal possessions, create electrical issues, compromise the structural integrity of the building by rotting wood and other common construction materials, and pave the way for a fast-moving mold infestation. Do you know how to find a roof leak?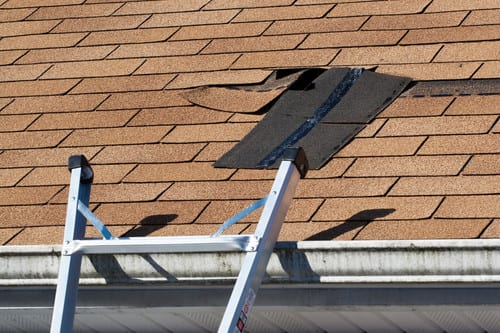 The Challenge of Locating a Leak
When it comes to finding a roof leak, many people consider a telephone to be their most useful tool. Why? Locating a leak is typically a job best left to professionals. After all, water doesn't always travel in a straight line. Once it penetrates a roof, it can snake along rafters, beams, pipes, and other surfaces within a building's hidden spaces in a convoluted path. As a result, the evidence of water damage can be some distance away from the actual site of the leak. In many cases, it takes the expertise and resources of a professional roofer to accurately locate a roof leak.
How to Find a Roof Leak
If you intend to try and locate a roof leak yourself, you'll need a willingness to investigate, persistence, patience, and luck. While roofers often utilize some of the same qualities when searching for a leak, they also bring their experience, knowledge, and professional tools and techniques to the table. This generally allows them to find the problem faster and with greater accuracy.
Looking for a Leak
If you enjoy a challenge and want to try to find a roof leak yourself before calling in a professional, there are a few tricks you can use. To get an idea of where the leak is likely to be from the outside, use a pair of binoculars to study your roof. Do you see holes, missing shingles, or debris that has penetrated the roof? Have missing granules altered the color or texture of part of the roof? Are shingles curled or broken? These issues can hint at the leak's general location.
What if you want to try finding a roof leak from inside your home? Head to the attic and look for indications of holes or signs of wetness like damaged insulation or mold. Always remember that the location of interior water damage isn't necessarily ground zero for the leak. Water can travel vertically, horizontally, or diagonally for several feet depending on the structure and materials it encounters. Ideally, you should take a look at your roof from both inside and out. Combining these perspectives allows you to gather as much information as possible and increases the likelihood of locating the leak.
A Professional Approach
A roofer will likely conduct a visual evaluation of the roof and the interior space beneath it, paying careful attention to leak-prone areas like the spaces around chimneys, skylights, and vents, and anywhere else that flashing is used. Areas where water might pool due to the roof's architecture or the formation of ice dams will also warrant a closer look.
With their expert knowledge of roofing systems, how they work, and where troubles are likely to develop, a visual inspection may be enough for a roofer to locate the leak or leaks. If their inspection is inconclusive or they want to investigate further, a roofer might use special tools like infrared technology or a moisture meter to track down elusive leaks.
Repairing a Leaky Roof
How are roof leaks repaired? That depends on a variety of factors, including the leak's location, cause, and severity. The materials involved and the overall condition of your roof will also come into play. Possible fixes include replacing missing or damaged deck boards, tar paper, flashing, and shingles. In some cases, materials like shingles, flashing, or caulk may be used to patch the roof. However, if there have already been attempts to patch the area, proper materials are unavailable, the damage is too extensive or too severe, or the roof is reaching the end of its useful lifespan, it may be time to replace the roof.
ATTENTION: Flex Seal cannot repair a leak in your roof! Our roofers come across this doomed handiwork on an almost daily basis. Not only do our customers try to use Flex Seal to repair their roofs, but also some other (questionable) roofing companies use it as well! Please don't make this blunder.
Regular maintenance can help prevent many roof leaks by keeping your roof solid and effective, but even well-maintained, top-quality roofs can fall victim to bad weather and other disasters. Roof leaks never resolve on their own, and allowing them to persist can quickly make a bad situation worse. Understanding how to find a roof leak is useful, but if you are concerned about the health of your roof and eager to protect your property, it's generally best to call in a professional who can identify the leak and offer advice about how to repair it properly.
To request assistance with your roof, contact GlennStone today. Just give us a call at 417-860-8125, send an e-mail to info@GlennStone.net, or contact us online. You can even set up a free roofing consultation by requesting a quote from us today. We look forward to hearing from you.