In Southwest Missouri, the weather can create quite a bit of wear and tear on your roof and cause you to need expert roof repair. Is your roof leaking? Have you spotted a missing shingle? Did a recent storm damage your roof with hail, a tree limb, or wind damage? If you suspect roof damage, it's important that you act fast to ensure the minor problem doesn't escalate into a major issue and more property damage. Contact GlennStone to schedule a roof inspection so that we can assess the damage, determine the cause of the problem, and take appropriate action to repair your roof. We complete roof repairs quickly and correctly with the GlennStone Guarantee.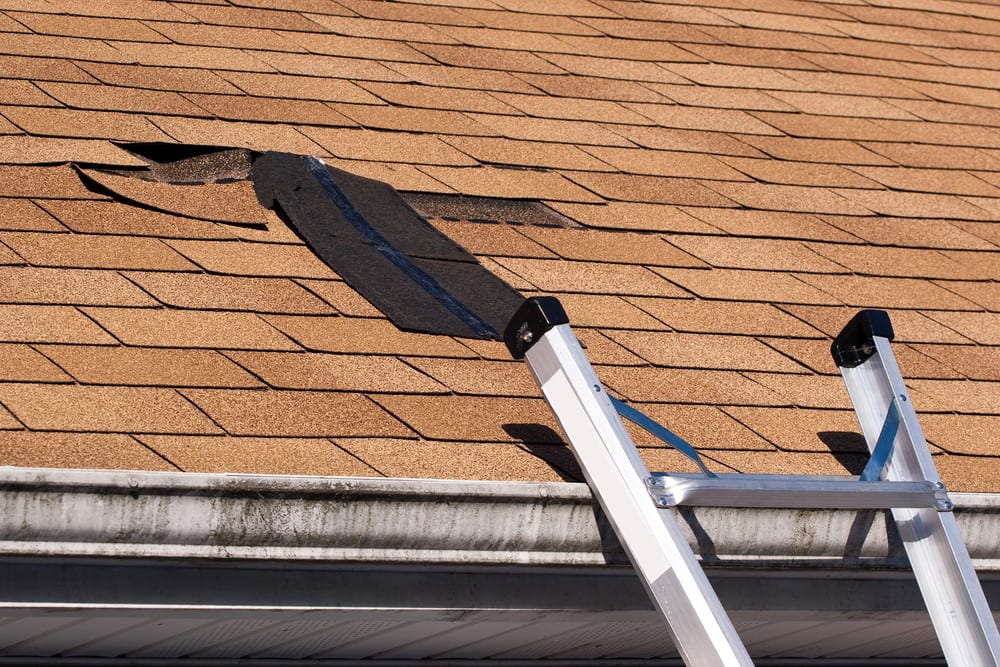 Roof Repair Company
Roof Leaks & Emergency Repairs
Untreated roof leaks can cause mold and water damage, threatening the structural integrity of your roof and attic. So as soon as you notice a leak, contact GlennStone to schedule an inspection. Symptoms of a roof leak include missing shingles, water stains (inside or outside), mold, moss, granule loss, and water dripping. If you're proactive about repairing a roof leak, you can prevent further damage.
Storm Damage
Hail, wind, and ice can wreak havoc on your roof. During the calm after the storm, assess the condition of your home. Look for missing shingles, cracks, or holes in your siding and dings and dents in your fascia, gutters, and downspouts. At the bottom of your downspouts, look for shingle granules in your splash block or on the ground. Some of this damage is only aesthetic, but if you suspect that further damage has occurred, contact GlennStone right away to ensure the problem doesn't escalate. Remember that in many cases, your homeowner's insurance will cover repairs for storm damage if you make the claim in a timely manner.
Commercial Repairs
The team at GlennStone can repair both residential and steep-slope commercial roofs. If your commercial building is damaged, you can rely on us to make high-quality repairs in a timely manner so that your operations and personnel are not interrupted for long. On a large roof, damage often goes overlooked, causing the roof system to slowly fail over time, so we encourage you to schedule regular roof inspections so that we can assess your roof's condition, examine critical areas, and identify and repair damage before it worsens.
Repair vs. Replacement
When necessary, we can help you explore the pros and cons of repairing your roof versus investing in a brand-new roof. In many cases, all that's needed is a simple repair, but if the problem is serious and the roof is already quite old, you may find it more worthwhile financially to replace your roof. So before you schedule a repair, have GlennStone Roofing examine your entire roof structure to check for other potential issues and confirm that it's in good condition. With their experience and expertise, GlennStone can offer friendly advice and help you crunch the numbers.
_____
Your roof doesn't just protect your house and your belongings – it also protects your family. By working with a dependable, skilled, and professional roofer, you can safeguard your home and keep your loved ones safe and comfortable.
In addition to roof repairs, and installation, we also offer ventilation, guttering, gutter protection, and rainwater drainage solution services. If you're interested in learning more, please contact us today or click here to request a free estimate If you're interested in learning more, please contact us today or click here to request a free estimate.