The snow, ice, and bracingly brisk temperatures that winter brings can set the stage for beautiful landscapes and exciting adventures. Unfortunately, they can also do a number on your residential or commercial property's roof. Educating yourself about common roof problems in winter is a smart, proactive way to protect your property. With a little knowledge and knowhow under your belt, you will be able to respond quickly to any issues that develop.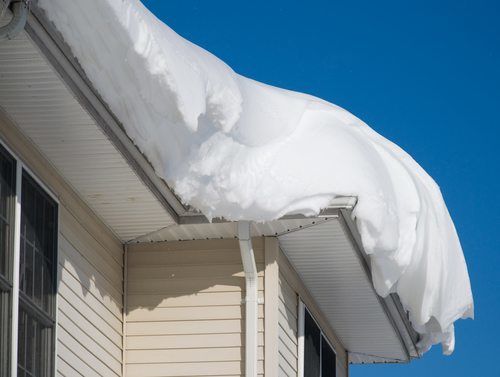 Roof Problems in Winter
Your roof is an incredibly valuable component of your building. By sealing out the elements, it protects both the people and the possessions that are sheltered within the structure's walls. It also helps to protect the integrity of the building itself by shielding the more vulnerable elements inside it from harmful forces like water damage. Considering everything that your roof does to protect your property, it's obviously a good idea to make the health of your roof a priority. Unfortunately, there are many winter woes that can endanger your roof. What roof problems in winter should you be on the lookout for?
Snow Pack Problems
A thick, heavy layer of white snow covering a roof can look delightfully picturesque. It can also cause serious problems. When a lot of snow accumulates, its weight can compromise a roof's structure, resulting in leaks, broken rafters, and even roof collapses. Whenever snow is lining your roof, it's wise to keep a close eye on the situation and be alert to any signs of potential damage.
Ice Dam Dilemmas
Roof temperatures aren't uniform. The upper reaches of a roof can be above freezing while the lower edges remain below freezing. This common situation is a recipe for ice dams. Snow near the top of the roof melts and flows down to refreeze when it comes into contact with the colder surfaces below, forming an ice dam. The ice dam creates a barrier that prevents any additional melted precipitation from exiting the roof. With nowhere else to go, the water slips under shingles and through gaps, damaging the roof and leaking into the building. Prevention is the best strategy, and the combination of appropriate roof insulation and a good attic ventilation system can be highly effective in preventing the formation of ice dams.
Icicle Dangers
When melted snow drips off the edge of a cold roof in subfreezing temperatures, icicles form. Although they may seem harmless as they glisten in the sunlight, icicles are dangerous. When they fall, they can injure any people or animals unlucky enough to be under them. They can also harm property that they crash into. However, they aren't just a danger to whatever is below them. Because of their weight, icicles can also damage your roof and your gutters. How do you protect yourself and your property from icicles? Keeping your gutters clear of leaves, twigs, and other debris and sweeping away excess snow if you are able to do so safely can help prevent the formation of icicles.
Flashing Leaks
Thin strips of metal used to seal the ridges and edges of roofs, chimneys, vents, and skylights, flashings are meant to create a waterproof barrier. Unfortunately, improper installation or the impact of severe weather can damage them, which can lead to leaks. Winter weather creates a perfect situation for flashing leaks. The snow and ice can lift or damage flashings, and the slower melting allows water to linger on the roof, giving it more time to find any of the roof's weaknesses or flaws and slip inside your home or business. Regular inspections are the best way to ensure that your flashings remain in place and are ready to do their jobs effectively.
Tree Limb Troubles
Blustery winds can force tree branches against a house, and coatings of snow and ice can weaken tree branches, causing them to break. When these branches scrape along or tumble onto the roof, they can cause significant harm to shingles and other critical roofing components. The resulting damage can be minor. It can also be catastrophic. You don't have to get rid of every tree on your property to fend off troubles with tree limbs. Instead, make it a point to maintain any trees near the roof and trim any overhanging branches so that they don't endanger it.
Condensation Concerns
When the warm air inside your home encounters the cold surface of a window, condensation forms. The same process can happen when the warmer air inside your attic collides with the colder surfaces beneath your roof. This can pave the way for mold, mildew, and water damage. It can also contribute to the formation of ice dams on the roof. How can you avoid the issue of condensation? Proper attic ventilation is key.
_____
Don't Let Roof Problems In The Winter Ruin Your Home
Are you concerned about roof problems in winter? Do signs of shingle damage or leaks have you worried about the health of your roof? Contact a roofing professional today to schedule an inspection and explore your options. If you live near Springfield, Missouri, request a roofing ventilation consultation from GlennStone. You can also send an e-mail to info@GlennStone.net, call 417-860-8125, or contact us online.