When properly installed by a reputable roofing contractor, a new roof will last for decades, so it's worth putting some serious thought into the hue that will be topping your home. You're going to be looking at it for quite a while, so you want something that will suit both your home and your sense of style. As you consider how to choose a roof color, what should you be thinking about?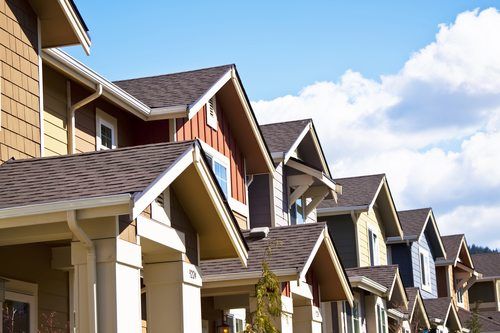 How to Choose a Roof Color
In the past, learning how to choose a roof color wasn't particularly tricky because your options were fairly limited. Now, regardless of the roofing material that you select, you're likely to find yourself contemplating a nearly overwhelming array of color possibilities. What factors should you be weighing as you make your decision?
1. Aesthetic Appeal
It's your property and your roof, so your aesthetic preferences should definitely be a major factor in selecting a roof color. While other factors may push you in one direction or another, ultimately you will want to select a color that you find attractive for your new roof.
2. Color Coordination
An existing home already has a color palette, and it's a good idea to take this into consideration when choosing a hue for your roofing. Do you love the shade of your shutters or your front door? You might want to match your roof to them or at least choose a color that complements them. Does siding cover your home? Its color should probably influence your roofing pick. Is all or part of your home's exterior brick? A classic material that can last for centuries, brick features play a major role in the look of your structure. While shutters and doors can be painted and siding is likely to be changed after a while, brick is generally there to stay. Brick can have a wide variety of tones; some tend toward reds, oranges, and browns, while others lean more towards blues and grays. Coordinating the color of your new roofing with your brick work can produce gorgeous results.
3. Climate Considerations
Did you know that the color of your shingles can impact the temperature inside your attic? Lighter colors reflect back more heat energy, so if you call a warm, sunny climate home, installing a light-colored roof might help to keep your home more comfortable and your energy bill lower. In contrast, darker colors collect heat and hold onto it, releasing it slowly. For those who call colder climates home, a dark-colored roof can be a great way to capitalize on the solar energy of sunny days.
4. Timeless Toppers
If you plan to sell your home in a few years or simply favor classic styles, you'll probably want to select a neutral color for your new roofing. While bolder choices may be trendier, they can sometimes show their age as they fall out of favor. Neutral colors are timeless.
5. Statement Styles
There's also something to be said for making a statement. Whether your home sits alone in the center of a picturesque lot or is one of many structures tucked into a subdivision, choosing a roofing color that makes a statement can be a great way to set your home apart from the pack. A striking color choice can call attention to the home's best features and distinguish it from other buildings nearby.
6. Proportion Properties
Sometimes the right color is a matter of proportion. So if you're wondering how to choose a roof color, consider how a color might affect the perception of the structure's proportion. While it depends on the surrounding elements and the lines of the structure, light colors can make a small home look larger. The reverse is also true; darker colors will often make a building look smaller.
7. Architectural Aspects
Architecture has its own aesthetics. Some colors will likely look out of place on certain types of homes. Historic homes often are best served by roofing with a classic appearance. Homes crafted from certain materials like brick or stucco are more appealing when topped with roofing in complementary colors. Think about your home's architecture and what will suit it best when choosing a roofing color and strike a balance between what suits your personal sense of style and what suits the style of your home.
8. Rules and Regulations
Neighborhoods and subdivisions are often governed by homeowners associations or similar entities, especially if they are located in a historic area. Before investing in a new roof, it is always smart to check into what, if any, rules and regulations you must abide by when it comes to the materials and colors you utilize for your home's exterior.
_____
If you have more questions about how to choose a roof color or are curious about the pros and cons when it comes to various types of roofing, then you'll want to speak with an experienced roofing contractor. If you live in or near Springfield, Missouri, give GlennStone a call. We understand how important a high-quality roof is to the protection and value of your home, and we can help you decide which shingle to purchase by providing sample books, giving you addresses of homes that showcase our work, and even using a software that allows you to superimpose roof styles over a picture of your home. With our help, you can rest easy knowing that you've selected the best roofing product for your needs.
For more information or some personalized advice, please give us a call at 417-860-8125, send an e-mail to info@GlennStone.net, or contact us online. We look forward to hearing from you.