Do you ever wish there were more hours in a day? You're not alone. And when your schedule is jam-packed with responsibilities, it's easy to let cleaning your gutters fall by the wayside. However, failing to take care of your gutters can lead to costly problems. Save yourself the headache of dealing with a leaky roof, cracked foundation, mold, or damaged pavement by keeping your gutters in tip-top shape. Scroll down to learn when to clean your gutters, and set a regular schedule to stay on track.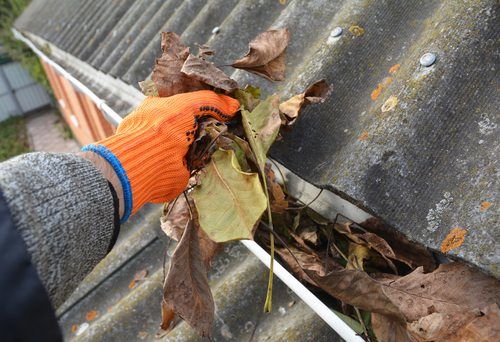 When to Clean Your Gutters
At Least Twice a Year
If you're a new homeowner, you might be surprised to learn you should clean your gutters at least twice a year. In order to help you stay on track, set a reoccurring reminder in your phone or calendar to clean your gutters each fall and spring. It is best to do this late in the fall so that you can clean away all of the leaves, and early in the spring before any heavy rainfall. If you have multiple trees in your yard that shed leaves and other debris (I'm looking at you, gumball tree), you might need to clean your gutters more often.
Signs It's Time for a Clean
Since twice a year doesn't cut it for all gutters, you'll want to keep an eye out for signs that you need to clean your gutters of dead leaves, seeds, baseballs, lost keys . . . or anything else that might be hiding up there. Watch out for these signs to learn when to clean your gutters:
You're growing a weed garden in your gutter. Whether it's maple tree seedlings or dandelions, plants with airborne seeds can germinate in inconvenient places, and your gutters aren't an exception.
You notice pools of water. Although puddles are fun for your kids to jump in, if you notice any water collecting on your lawn, around your foundation, or in your driveway, it could be a sign that rainwater and melted snow aren't draining properly.
Dripping gutters or gutters that aren't draining. If your gutters aren't draining properly, there might be a clog or leak that is preventing them from doing their job.
Water is finding its way into your house. If you have to reach for drip pans and buckets during a downpour to catch water falling from your leaky roof, your gutters could be the culprit. A leaky roof or a flooding basement could be a sign that it's time to clean your gutters.
You have a pest problem. Have mice or bugs found their way into your attic? Your dirty gutters can be the perfect place for critters like these to nest. Clean them out pronto!
How to Clean Your Gutters
If you're not afraid of heights or getting dirty, cleaning your own gutters is possible. Keep in mind, however, that falling from a tall ladder can be very dangerous. It's worth it to hire a professional to protect your safety. But if you're up for the challenge, use these tips to clean your gutters:
Grab some thick working gloves and a ladder. If you have allergies to mold or pollen, consider wearing a mask over your mouth and nose.
Use your hands to scoop out debris. Simply drop it onto your lawn – you can pick it up later.
Use your hose to flush the gutter with water. Check to make sure the water is draining properly.
Check the downspouts for lodged debris. If it is clogged, you can use your hose to flush water up it to loosen the debris.
Check to make sure your gutters are attached well to your house. If you notice multiple spots that need attention, it might be time for a new gutter system.
_____
Now that you know when to clean your gutters, take a close look at them. Are you in need of a new gutter system? If you live in or near Springfield, Missouri, give GlennStone a call. We can take a look at your gutters, and help you find the best solution for your home. Plus, although we don't offer a gutter cleaning service at this time, we will remove debris when we're installing new gutter protection. For more information or some personalized advice, please give us a call at 417-860-8125, send an e-mail to info@GlennStone.net, or contact us online. We look forward to hearing from you!