Selecting shingles for your roof replacement may seem like a no-brainer. After all, to the untrained eye, all residential roof shingles look similar. In reality, a new roof is a major investment, and it's important to weigh the pros and cons when choosing your materials. Not sure where to start? In southwest Missouri, fiberglass composition roofs are currently the most popular choice. Fiberglass composition roofs are fire-resistant and easy to install and remove, which means you can spend more time enjoying your home and less time waiting on the final product. Once you've decided on a fiberglass composition roof, there are several key factors to consider when planning your roof replacement – factors including budget, aesthetics, warranty length, and durability. That's where different types of composition shingles come into play.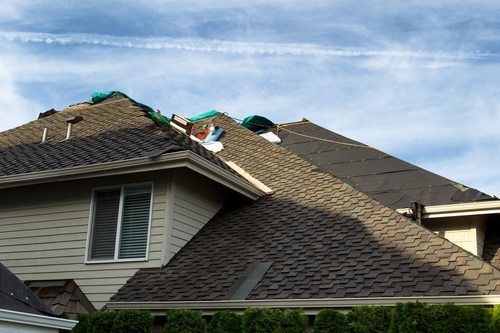 Types of Composition Shingles
3-Tab Shingles
If you're looking to replace your roof without breaking the bank, 3-tab shingles could be a perfect fit. 3-tab shingles take their name from a series of vertical slots that are notched into the shingle, splitting its lower half into three "tabs." The tabs create a classic roof shingle pattern.
One of the most appealing factors of 3-tab shingles is their relatively low cost. 3-tab shingles have a lower initial installation cost than other shingle options, making them a great choice for a first home. It is worth noting, however, that 3-tab shingles are typically not as long lasting as other shingles. 3-tab shingles typically have shorter warranties than other shingle types, and they can be prone to decay and mold caused by excess trapped moisture. They also don't stand up to high winds and tough weather conditions as well as other shingles. 3-tabs can be a great choice for a starter home, but they may not compare to other types of composition shingles when it comes to quality.
Architectural Shingles
Architectural shingles, otherwise known as laminate or dimensional shingles, are currently the most popular choice when it comes to composition roofs. Architectural shingles are a step up from the basic 3-tab shingle, and they're also more affordable than premium composition shingles. That makes them a great fit for homeowners in need of a high-quality, attractive product.
Architectural shingles feature a second tabbed layer that essentially doubles the thickness of the shingle. Like the 3-tab, architectural shingles come in a wide variety of colors and styles. They have a longer warranty than the 3-tab shingle, typically installed with options for 30-year, 50-year, and limited-lifetime manufacturers' warranties. Architectural shingles also offer an attractive natural look, mimicking that of wood or slate. Finally, they're significantly more durable than 3-tab shingles, able to withstand higher winds and harsher weather conditions.
Premium Composition Shingles
If you're prepared to make a serious investment in your home, premium composition shingles are the way to go. Premium composition shingles are the highest quality option when it comes to composition roofs, greatly increasing the value of your home with durability and style. Premium shingles are often larger and much heavier than standard shingles, making them heartily weather-resistant. They also have a variety of attractive styles that can mimic wood, slate, or tile.
While premium shingles are attractive, resilient, and highly weatherproof, they do come with a heftier price tag. That price tag is, however, reflected in the product's long warranties. If you're willing to make the financial commitment, premium composition shingles can withstand difficult weather conditions while adding stylish flair to your home.
_____
A new roof is a serious investment. It can be challenging to weigh the pros and cons when deciding which type of shingle is right for you – especially if you're a first-time homeowner. At GlennStone, we're prepared to do the heavy lifting for you. Give us a call at 417-860-8125 to set up a consultation.