Slate roofing is durable, resisting hail better than almost anything else. Slate is long-lasting and beautiful. The main drawback to real slate is its' price tag: a slate roof can cost as much to build as the rest of the house. Also, the life of natural slate can be shortened by changing climate conditions. The freeze/thaw cycles we have in the Springfield,MO area can decrease the lifespan of a natural slate roof. And because of the weight of slate tiles, homes have to be specifically engineered to support all that extra weight.
That's why GlennStone Roofing and Gutters recommends using synthetic slate, which has all the beauty and durability of natural slate at a much lower cost. Synthetic slate is also less vulnerable to the freeze/thaw effects of a volatile climate. For a beautiful roof that can withstand the elements and last a lifetime, synthetic slate is hard to match.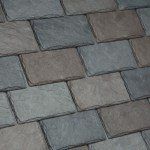 Valoré Slate synthetic roofing tiles embrace the art and science of roofing to offer you exceptional aesthetics and performance without destroying your budget. Valoré Slate synthetic tiles resemble the classic traditional slate tile found on upscale residences throughout the world, but requires none of the maintenance.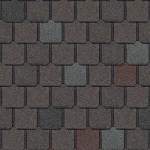 Discover the difference that Owens Corning Berkshire® Collection Shingles can make. With a thickness, proportion and color selection reminiscent of natural slate, these shingles make a unique, elegant statement. And the Berkshire Collection proves it's as solid as it looks with a Limited Lifetime Warranty, 110/130 MPH Wind Resistance Warranty, and Algae Resistance Limited Warranty.