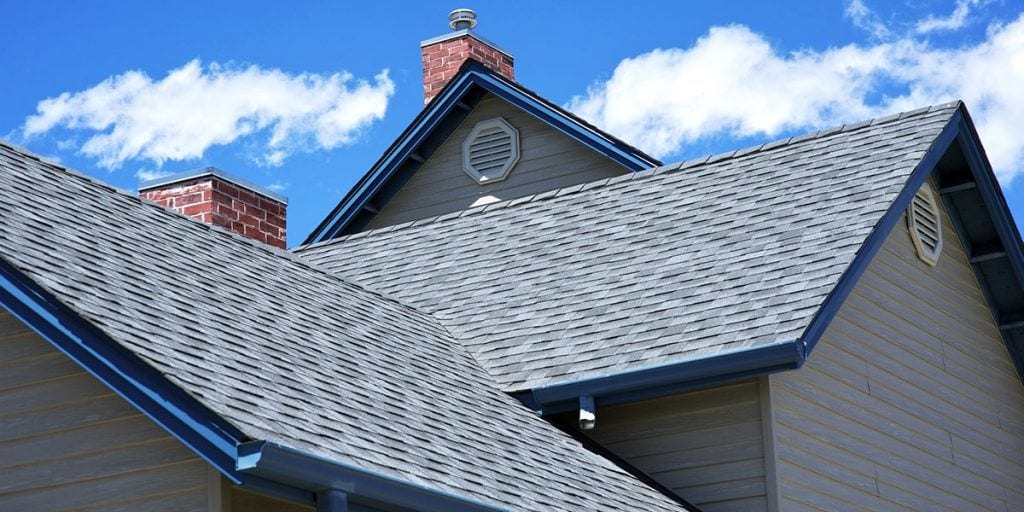 Have you spotted dark streaks on your asphalt roof? What about algae or moss? Don't worry – you don't need to replace your roof. In many cases, a simple roof cleaning can remove unsightly marks and enhance your roof's curb appeal. At GlennStone, we use Roof Shampoo® to thoroughly clean roofs. This eco-friendly product is designed to kill algae, moss, and lichens at the roof level. Using this safe and effective product, we can restore your roof's beauty and charm
The Benefits of Roof Shampoo®
Safe and Eco-Friendly: Roof Shampoo® is a safe, green product. It doesn't contain chlorine bleach or phosphates, and it won't harm your roof, home, or landscaping. This environmentally friendly shampoo also will not corrode the metal materials on your roof or kill your grass.
Immediate Results: With this roof cleaning service, you will see a difference immediately. When our team leaves, your roof will be free of stains and other blemishes. Unlike other cleaning methods, there is no need for you to wait for a rainstorm to see the finished outcome.
Effective: Most importantly, Roof Shampoo® is extremely effective at removing algae, moss, lichens, and other roof-staining organisms. Our team uses state-of-the-art equipment to complete this gentle, low-pressure wash. The technique, which was specifically designed for asphalt and fiberglass shingles, doesn't involve any scrubbing or brushing. Your roof will be left cleaner, healthier, and less likely to require premature reroofing.
Many other contractors rely on bleach for roof cleaning, but bleach corrodes metal, releases toxic gas, permanently kills nearby plants, and may only temporarily lighten stains (instead of removing them). For these reasons, most homeowners would prefer not to use bleach around their homes. Contractors know this, so they may refuse to mention they're using bleach, referring to it as sodium hypochlorite or a "soft wash" as a disguise.
If you aren't sure whether a contractor uses bleach, ask! Be persistent. Or better yet, contact GlennStone and schedule a Roof Shampoo®.
About Algae, Moss, & Lichens
Asphalt is a common roofing material thanks to its timeless look and affordable price point. Over time, however, it can develop streaks and stains that mar its beauty. With a Roof Shampoo®, we can remove the algae, moss, and lichen colonies often responsible for these blemishes.
Algae
Streaks and discoloration are often the result of blue-green algae – living organisms that flourish on roofs due to the dust, pollen, and organic materials found there. Algae often affect homes in warm, humid climates and form in places where moisture lingers on roofs. Within months, tiny algae spores may grow into larger streaks on a roof plane. In addition to algae spoiling the aesthetic beauty of asphalt shingles, airborne algae harms roofing systems by eating away at the granules of shingles, which can cause the roof to overheat and fail prematurely. Because they absorb heat, algae-stained roofs can also overheat attics, resulting in higher home cooling costs.
Moss
Moss only survives in moist environments, so it tends to grow on roof planes that receive less direct sunlight and stay damp longer. Overhanging trees provide shade that can foster moss growth, and they may also drop debris on the roof that intensifies the damp environment. Like algae, moss spores can easily spread from roof to roof. They can harm asphalt shingles by causing them to lift up or curl, which increases the likelihood that the shingle will blow off on a windy day. With its shallow root system, moss can keep roofing materials damp for extended periods, which may lead to rotting and erosion. Severe moss growth can also lead to lateral water movement, which may cause moisture damage and leaks.
Lichens
If you've never heard of lichens, you're not alone. A hardy type of fungus, lichens grow in a symbiotic relationship with algae. As the two interact, they typically form a crustlike layer or branching growth on the granules of asphalt shingles. The rootlike tentacles of lichen colonies can force their way through the base of a shingle, seeking nourishment, which can cause dark spots and pockmarks. Lichens can shorten the lifespan of your roof by accelerating deterioration, loosening granules, and exposing base materials.
Roof Cleaning & Maintenance
With the help of GlennStone, you can say goodbye to the unsightly streaks, spots, and organisms on your roof. To get your roof looking as good as new, we'll clean it with safe, gentle, and effective Roof Shampoo®.
To discourage the growth of algae, moss, and lichens in the future, follow these steps:
Adhere to a regular roof maintenance program.
Schedule a roof cleaning as soon as you notice stains or spots.
Trim tree branches so more sunlight can reach your roof.
Clear away debris that accumulates on your roof.
Keep your gutters clean to ensure proper drainage.
Ensure that your home and roof are properly ventilated.
Consider purchasing algae-resistant asphalt shingles.
Consider choosing darker shingles when you replace your roof to conceal future stains.
Contact GlennStone Roofing & Gutters Today
When you're ready to have your roof cleaned, contact GlennStone. By partnering with a full-service roofing company like GlennStone, you can benefit from the convenience of working with a company that does it all – from shingle selection and installation to repairs and roof cleaning. Contact us today to receive a free quote!